Have you ever heard your granny say "I don't know where the years have gone?" Maybe you've asked yourself why time seems to pass faster when you're having a good time? Well, the time passed fast for me – but what have I been up to and can I even remember or have I been too busy to replace the memory chip in my brain? Well, whilst I'm trying to remember, here's some pretty May flowers I saw on my travels (sorry readers, I'm not in danger of turning nice - these flowers are really "VICIOUS VEG" and they're full of "UGLY BUGS"!) …
Mind you, if you live in Lincoln, England and you came to see my Horrible Science show at the Lincoln Festival you'll have an idea of what else I've been doing. A big thanks to a lovely audience – and especially YOU just so long as you laughed at the jokes!
And there's the brilliant exciting Appledore Book Festival - regular readers of this diary will know that I have set up this book festival to support the local Library and now it's fully planned - you can find out more about it by visiting the Appledore Book Festival website - just click here to take a look! -
And then I've been working on some new books. "So what's new?" I hear you ask. The answer is that these new books aren't just horrible – they're EXTRA-Horrible. The Ugly Bugs Jigsaw Book tells the Horrible tale of a young woodlouse and his desperate attempts to escape the clutches of the deadly woodlouse-eating spider. Here's me doing some research by a local stream and meeting armies of beastly bugs - and NO, I didn't fall in the stream or get eaten alive by the spider!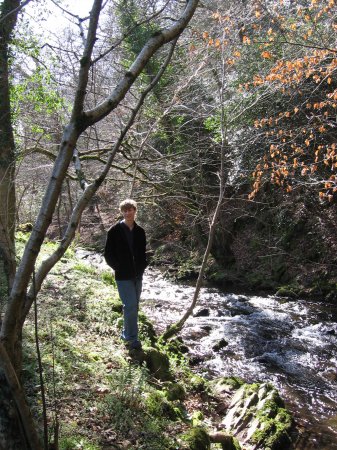 And then there's the Beastly Body Experiments Book – nice title, huh? There are some really revolting experiments in there such as edible snot and make an inside-out body. I shall be writing a another Horrible Handbook soon all about Brain Experiments to try at home – if you've got a brilliant title brainwave why not drop me an e-mail?
And talking about e-mails - I've been getting hundreds but can I please, please (look I'm on my knees begging) ask you to put your correct e-mail address on your e-mail otherwise I can't reply – so here's a special message to Samuel who wrote in February, Emily from Western Australia, Jacob, Rory, Alex, Shane, Holly, Ashley, Matthew, Fiona, Amy, Caroline and Abbi – don't give up your dream of becoming a scientist! Yes, I did get your messages and yes I did try to reply! Why not have another go?
And here are some answers to some frequently asked questions you've been sending me.
WHERE DO I GET HORRIBLE SCIENCE BOOKS FROM?
You can get Horrible Science books from all good bookshops and some jolly bad bookshops too. If they haven't got the title you want don't be shy – ask! The bookshop can probably get it in a day and if they don't have too many Horrible Science books let me know and I'll name them and shame them on this website! Mind you, if there's a friendly adult around they might be persuaded to order books from Amazon for you!
CAN I VISIT YOUR SCHOOL?
Nope – sorry! If I went to all the schools that wanted me to visit I'd never have a chance to write a book – so it's only fair to say "no thanks!" to everyone.
Well, that's it for now – I'm off bug hunting but I'll be back soon and remember – keep those e-mails coming!